Got Nature? Blog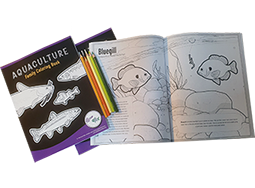 This print-your-own coloring book provides a fun and active way for children and adults to learn about the many kinds of aquatic animals raised on farms for aquaculture. Each spread highlights one species, pairing a beautifully illustrated coloring page with accompanying text for advanced and beginning readers with information about fisheries, recreational fishing, and cooking tips.
This publication is a collaborative project of Illinois-Indiana Sea Grant, the North Central Regional Aquaculture Center, University of Illinois Extension, and Purdue University's Department of Forestry and Natural Resources.
To receive the free download for the Aquaculture Family Coloring Book visit The Education Store.
About the Author
Amy Shambach is Illinois-Indiana Sea Grant's (IISG) aquaculture marketing outreach associate who works with the aquaculture industry in the USDA's North Central Regional Aquaculture Center. Her work focuses on the demand side of domestic farm raised seafood products. She provides outreach and extension services to producers, potential producers, and consumers. Along with Dr. Kwamena Quagrainie, producers, aquaculture associations, and consumers, she works to determine the needs of stakeholders. View the Aquaculture Family Coloring Book Development Team with the free download of the book.
Resources:
Walleye Farmed Fish Fact Sheet, The Education Store
Pacific White Shrimp Farmed Fact Sheet, The Education Store
Yellow Perch Farmed Fish Fact Sheet, The Education Store
Tilapia Farmed Fish Fact Sheet, The Education Store
Rainbow Trout Farmed Fish Fact Sheet, The Education Store
 American Paddlefish, The Education Store
Eat Midwest Fish, Illinois-Indiana Sea Grant online resource hub
Illinois-Indiana Sea Grant (IISG), Illinois-Indiana Sea Grant
Amy Shambach, Aquaculture Marketing Outreach Associate
Purdue Department of Forestry and Natural Resources/Illinois Indiana Sea Grant Program
---