Veterinary Technology Program Staff 'Flip-out' for National Vet Tech Week
October 20, 2017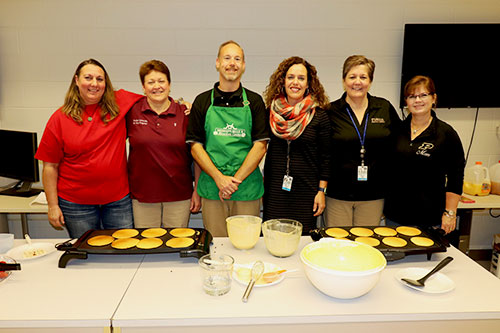 Pancake breakfast volunteers (left-right) Julie Roahrig, RVT; Pam Phegley, BS, RVT; Josh Clark, MS, RVT; Dr. Bianca Zenor, Veterinary Technology Program director; Paige Allen, MS, RVT and Martie Knill, Veterinary Technology Program secretary, serve-up flapjacks during the Veterinary Technology Program's celebration of National Vet Tech Week.
By Helen Thimlar, PVM Communications Intern
Purdue Veterinary Medicine celebrated National Veterinary Technician Week with a variety of activities this week, including a traditional pancake breakfast served by the Veterinary Technology Program staff. The National Association of Veterinary Technicians in America (NAVTA) proclaimed National Veterinary Technician Week October 15-21. The annual celebration recognizes veterinary technicians for their contributions in pet healthcare. This year's theme is "Advancing Veterinary Nursing and Veterinary Technology," focusing on the diversity experienced and the animals treated in the veterinary field.
The Veterinary Technology Program's breakfast was held on Tuesday, October 17, from 7:30 – 9:00 a.m., in Lynn G155, to honor veterinary technology course instructors, clinical instructors, and veterinary teaching hospital veterinary technicians. Pam Phegley and Josh Clark served up pancakes of all shapes and sizes to the distinguished guests, with the help and support of the other Veterinary Technology Program staff members.
NAVTA is a nonprofit organization that represents and promotes the veterinary nurses / technicians profession, providing direction, education, support, and coordination for its members. Incorporated in 1981, NAVTA describes itself as the national organization devoted exclusively to developing and enhancing the profession of veterinary nursing / technology. The organization recommends celebrating National Veterinary Technician Week by recognizing the team members providing veterinary care to all species of pets. This year, Hill's Pet Nutrition is sponsoring the week-long celebration. More information about NAVTA and this special week can be found at www.navta.net.
If you haven't done so already, there's still time to thank a veterinary technician during this year's National Veterinary Technician week!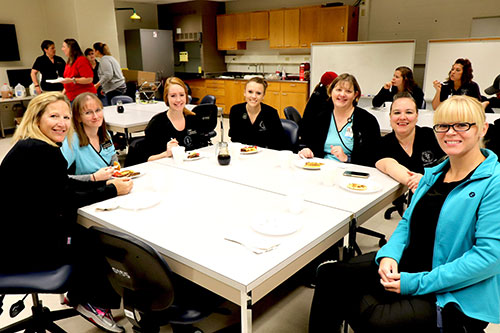 Veterinary Teaching Hospital staff join in the fun at the Veterinary Technician Week Pancake Breakfast (left-right): Donna Tudor, Lara Luke, Cherie Russler, Mindy Cotton, Jennifer Ashley, Jeannine Henry and Christina DeYoung.
Pancake Breakfast attendees (left-right) Kris Kazmierczak, Olivia Wyatt, and Christa Crain hang out with breakfast volunteer Paige Allen.
Writer: Kevin Doerr and Helen Thilmar, PVM Communications Intern, pvmnews@purdue.edu