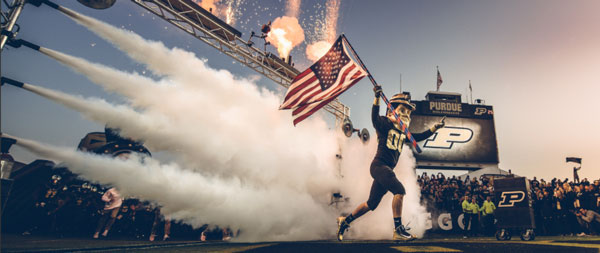 Congratulations, new Boilermaker! We are Purdue's Student Success Programs department, and our mission is to help you arrive, thrive and graduate on time. Please read the information below carefully so you can make a smooth transition to Purdue!
Dear Boilermaker,

The purpose of this email is to introduce you to Purdue's New Student Task List, which resides in your myPurdue student portal. Your task list contains a variety of important announcements and to-do items that you will need to complete before classes begin. It is important to check your task list regularly, as new items will appear later in the summer.
 
 
what you can expect to see on your task list:
 
 

University Residences Housing Application 
ALEKS Math Placement Test   
Affirmance of Financial Responsibility 
MyCareer Plan 
Printable Version of Award Notification 
View Financial Aid 
Honors College Acceptance Form 
Purdue University ID Card Photo Submission 
Sign up for BoilerKey two-factor authentication 
Religious Preference 
Emergency Contact Information 
Be Involved at Purdue 
Orientation Programs Registration Information
A description of these task items can be found in your task list. Please note that if you are a Transfer student or an International student, you may see a different set of task items intended on supporting your unique transition.

In addition to your task list, below are a few important resources that can help you get started.  
Information Technology at Purdue (ITAP) – Purdue wants you to stay connected and secure. This site addresses some common tips, like how you have access to free Microsoft Office products, setting up two-factor authentication for added security, and what kind of computer to bring to Purdue. 
First Generation – Purdue supports students who are the first in their family to attend college. More than 20% of our undergraduates at Purdue are first-generation students. This site outlines specific first-gen resources. 
Protect Purdue – Purdue is committed to campus safety. This site outlines our response to the ongoing COVID-19 pandemic. Please familiarize yourself with the Protect Purdue rules and expectations. 
Soon, you will also receive an email about our incoming new student Orientation Programs. This email will walk you through what our expectation is of you through orientation this summer.  

You must check your Purdue and personal email to stay up to date with important Purdue communications. This is how you'll learn about all the important tasks to complete before you arrive! If you have any questions throughout your transition, please do not hesitate to contact us at studentsuccess@purdue.edu or call 765-494-9328. 

Once again, congratulations on your acceptance to Purdue University! We are proud of your accomplishments and are excited to see you on campus!



Boiler up!


Purdue Student Success Programs