Bonjour and thanks  for following our blog! This is Kelsey writing today. Wednesday was a long and action-packed day for our group. We woke up bright and early, bright-eyed and bushy tailed, in order to make it to the station in time to grab some breakfast and catch our 8:16 A.M. train to Amsterdam, Netherlands. I think that we all knew how great of a day it was to be after we had the pleasure of discovering the deliciousness that is Lay's Poulet Rôti (Roasted Chicken) flavored chips. This delicacy is truly the breakfast of champions and I am quite disappointed in the States for not having this flavor available.
The train ride to Amsterdam was two and a half hours of excitement and anticipation. We enjoyed views of the French countryside and cities in Belgium, including Brussels and Rotterdam. It was fascinating to watch how the architecture changed so drastically from western to northern Europe. In Belgium and Holland, the buildings are very narrow and pushed together—IKEA makes more sense to me now that I see the necessity to fit houseware items into tiny spaces.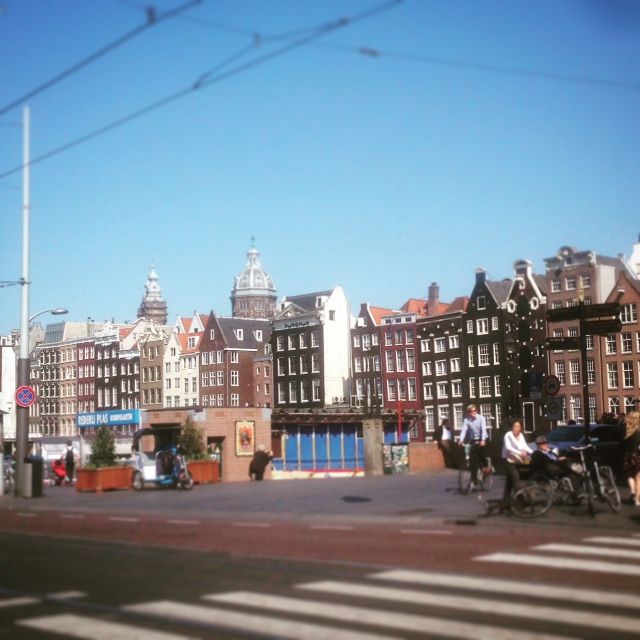 We arrived in Amsterdam and immediately noticed the change of pace from Paris. I would consider Amsterdam to be more crowded and busy than Paris, but also more laid-back, easygoing, and friendly than the Parisians. We walked on cobblestone past both familiar and unfamiliar food venues, large souvenir shops, coffee shops, Dam Square, and beautiful canals to reach the Homomonument. Holly and Jen presented to us an informative site report, explaining the history and significance of the monument as well Dutch LGBTQ rights. The monument, consisting of three pink triangles that connect to form one large triangle, is a commemoration to the many Dutch LGBTQ Holocaust victims who did not receive official recognition until the 2000s. It was a moving moment to stand within one of the pink triangles.
We broke up for lunch back at the hustling and bustling Dam Square, during which I ventured to La Boca Argentinian Grill for some fries and Coca-Cola Light (Europe doesn't believe in "diet" it seems). Next, we took the tram to the Dutch Resistance Museum. We began our self-guided tour by watching an introduction video featuring a male narrator with a very strange hat.
It explained to us that the entire museum is framed in a way that explores how the Dutch reacted to Nazi occupation during World War II—by adapting or adjusting, collaborating, or resisting. The movie gave some examples of all three reactions, my favorite being the case of a woman who chose to "adjust" by not bringing her Jewish neighbor to the zoo with her children (Jewish people were evoked many privileges, such as going to the zoo, at this time). Our fashionable narrator remarked that this woman and her children had a lovely day. After the video, we explored the museum to find that most of the exhibits focused on the Dutch resistance movement.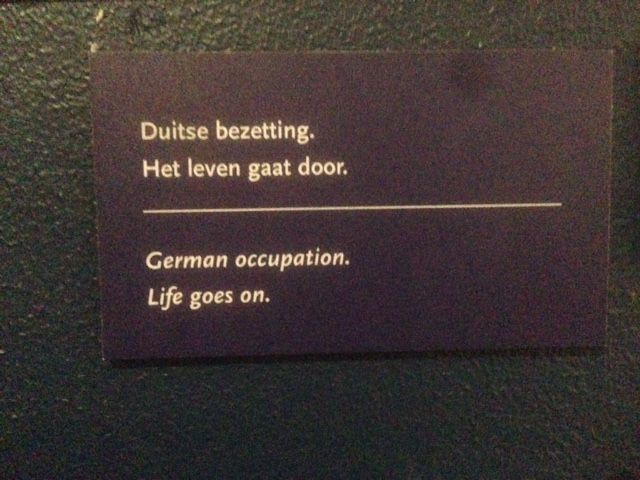 There were artifacts and explanations of all the ways the Dutch resisted their occupation by Germany.
Goodbye letters thrown out of trains headed to concentration camps.
One woman imprisoned for a minor crime was given the job of sewing holes in soldiers' socks, and resisted by feigning naivety and sewing the socks closed. Others smuggled Jewish children out of their nurseries before they could be deported; stayed in political office in order to have some power remain in Dutch hands; created secret language to enable communication; developed underground radio such as Radio Oranje; went on strike to protest the eradication of Jewish public servants; hid people in their own homes; and forged documents and papers that could identify a Jewish person. There was lots of evidence that made the Dutch look quite proactive. It was a really powerful museum to explore. What was also striking was the complete and utter lack of LGBTQ representation. Throughout the entire museum, I only found one mention of a somewhat gay reference, which was about a female undercover spy who would disguise herself as a man and neck with her partner in order to catch people. We learned from Holly and Jen's site report that there were indeed gay key resistance fighters, but yet there was no mention of such figures at the museum. This censorship of LGBTQ history is an issue that we come running into again and again throughout our travels.
We ended our day with a couple hours of free time in Amsterdam. Some of us got tattoos; others enjoyed Dutch delicacies such as stroopwafles, "mayonnaise French fries," and gelato; a lot of us found some memorable souvenirs; and all of us enjoyed the beautiful weather in such a gorgeous and unique city. We were sad to board our train back to Paris, but ready to return to see the Louvre tomorrow.