Integrating healthy food education into the school learning experience is something that any school or district can accomplish.  Through small steps, food education will help students better understand different types of fresh food, how and where fresh food is produced, and why eating fresh food is important. There are several ways to bring food education into the school. You will need a team of people (teacher, administrator, parents, school food service director, farmers, chefs, etc) working together to integrate all the activities and learning events to support school wellness and classroom education for healthy food. This list may help you think about ways you can start.
October is National Farm to School Month, a time to celebrate the connections happening all over the country between children and local food. National Farm to School Month activities may involve taste tests in the cafeteria, nutrition education activities in the classroom, farm visits, farmer and chef visits to the school, and school garden harvest parties.  Each year, schools, early care and education sites, farms, communities across the U.S. join in the celebrations.
It is never too early to start planning Farm to School Month celebrations for your community! Check out some of planning resources below and explore past Farm to School Month toolkits to see how communities around Indiana celebrate.
Great Lakes Great Apple Crunch
Held each year in October, the Great Lakes Great Apple Crunch is a wonderful way for schools, early care sites, business campuses, hospitals, and others to celebrate local farmers and purchase Indiana-grown apples! Every year, thousands of participants across Minnesota, Wisconsin, Illinois, Michigan, Indiana, and Ohio join in the celebration.  For more information, check out the links below:
In
dianaGrown For Schools: enriches the connection communities have with fresh, healthy food and local food producers by changing food purchasing and education practices at schools and early care and education sites. Students gain access to healthy, local foods as well as education opportunities such as school gardens, cooking lessons and farm field trips. For more information click here
Nation
al Farm to School Network: is an information, advocacy and networking hub for communities working to bring local food sourcing, school gardens and food and agriculture education into schools and early care and education settings. For more information click here.
Procurement questions? Click  here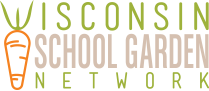 Wisconsin School Garden Network supports the growing school garden movement in our state. We offer support for new and existing gardens at schools, early care and education centers, community centers, and after school sites.